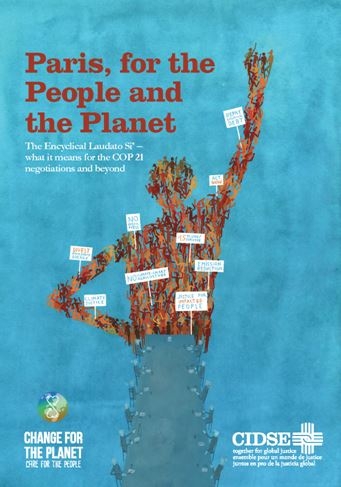 The Encyclical Laudato Si' –what it means for the COP 21 negotiations and beyond
This publication by CIDSE – an international alliance of 17 Catholic development agencies – sets what we want to see from the Paris agreement as the first step to strong global action. This is based on the evidence from our partners and poor communities of how a changing climate is impacting on them. It based on an ethical approach, inspired by Pope Francis' Encyclical Laudato Si': Care for Our Common Home. This calls on governments to consider the moral dimension of political decision, placing the poorest communities who are suffering the most from climate change impacts at the centre of the debate. This report outlines CIDSE's vision for what the Encyclical means for the Paris agreement.
The publication (in English) will be released on 30 October, one month before the beginning of the COP 21.
French and Spanish versions of the report will be available later.
It will be available on CIDSE website: www.cidse.org
For any questions or to pre-order your copy, please contact:
Valentina Pavarotti, CIDSE Media and Communications Officer, pavarotti@cidse.org