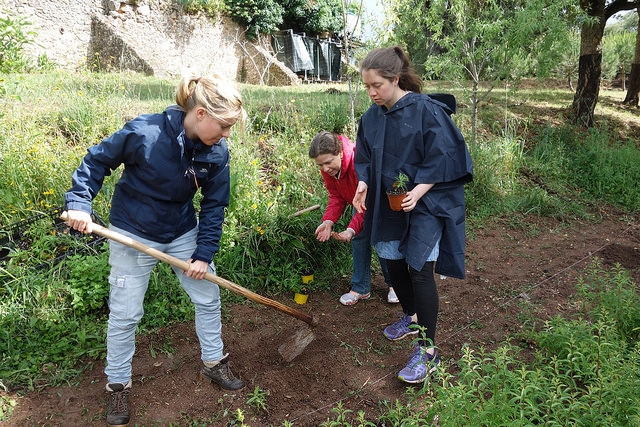 Two years ago, Pope Francis released his groundbreaking encyclical Laudato Si' that describes the social and environmental crisis we are facing and calls on humankind to care for our common home. One group of youth got to experience firsthand the ecological conversion Pope Francis speaks of in his encyclical at a Laudato Si'-inspired camp.
In Laudato Si', Pope Francis asks that we experience an ecological conversion, where we seek to live in harmony with nature rather than dominate it. This, he remarks, begins by changing our lifestyles so as to ensure that all benefit equally from the Earth's resources, including future generations.
If we can overcome individualism, we will truly be able to develop a different lifestyle and bring about significant changes in society. (LS 208)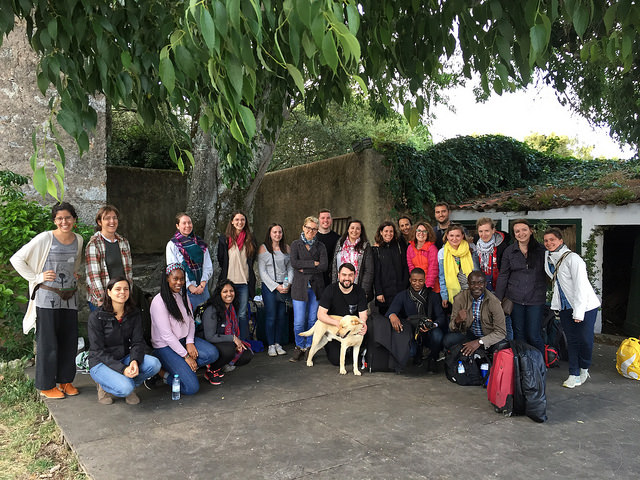 A group of over 20 youth began a journey of ecological conversion in Ourem, Portugal, where they participated in a camp focused on living more sustainably. The camp was organized as part of the Change for the Planet Care for the People campaign and in collaboration with CIDSE's Portuguese member FEC. It was held on the inspiring grounds of Casa Velha, a heritage farm near Fatima that promotes sustainable and community living and is run by a group of volunteers committed to building a better world.
The volunteers at Casa Velha generously hosted the participants, who were mostly youth involved with CIDSE member organisations in Europe and Canada. CIDSE partner organisations, such as SECAM, which is the African bishops' conference, and Pax Romana, also sent representatives to take part in this four-day transformative experience.
"Care for nature is part of a lifestyle which includes the capacity for living together and  communion." (LS 228)
At the camp, participants reflected on the messages put forward in Laudato Si' in many ways. They heard from a panel of people who are taking steps to create a more sustainable society by proposing alternative economic systems, introducing renewable means of food and energy production and developing a deeper spiritual connection to nature. Participants also had time to exchange between each other on experiences from their own communities and to partake in activities that brought them closer to nature and in working together to care for their surroundings.
Even in the short time that the participants were together, it was clear that the experience had a profound effect.
"The ecological conversion needed to bring about lasting change is also a community conversion." (LS 219)
Here are reflections from some of the participants on their Laudato Si' camp experience and their ecological conversion:
"In terms of responsible consumerism, I try to avoid products that are not responsible with the environment, such as avocados, mangoes or other products that come from very far. I purchase fair trade chocolate, tea, and coffee since small communities need to be protected and this is my way of showing my respect for them.
With my clothes, since the clothing industry is in many ways a new form of slave labour, I try to buy them second-hand from a cooperative that recycles clothes. If some pieces of clothing are too worn, they are transformed into carpets for cars or just pieces of cloth for factories that are dirty."
Laura Gascón. Manos Unidas, Spain
"In his encyclical Laudato Si', Pope Francis speaks about the connection between people and nature. We are deeply connected to the earth and humanity is very much dependent on the earth. Without the earth and its resources humans cannot essentially exist. Our future is the future of the earth.  Pope Francis also says that every life matters, if we take care of the poorest humans we will them take care of the earth, We are called to preserve the human race. Therefore, we have a duty to each other and the earth.
On Wednesday, we had many reminders of the relationship between humanity and the environment, both through the experience of nature at beautiful Casa Velha, and through discussion and dialogue with people from many countries and backgrounds."
Maria Anat, Development and Peace, Canada
"It has been a wonderful experience to feel like I am a part of this international network of people. These people all have diverse backgrounds and experiences and come from many different countries, but we are all gathered here to work for a more just world.  At home in Canada, at times it can feel like we are trying to tackle problems that are so global in nature, and we are only a small group of people trying to affect such immense change. But coming here, it is so encouraging to learn about all the diverse projects that different people and organizations are working on towards sustainability."
Selina Hunt, Development and Peace, Canada
"Just being able to work around Casa Velha and be with people constructing things, people planting and growing… There are all these things going on here and it has made me realise how little I actually do in my own life to use the things that I use and to eat the food that I eat. It's something that when I go home that I'll definitely think twice about; how I go about consuming and how I go about keeping the cycle of what we learned here going."
Jason Sheehan, CAFOD, United Kingdom
"It really got me thinking about whether I really know the Lord's voice? Do I really know the path I'm supposed to go on to serve others, to serve my community and work with other people. It made me feel like I definitely need to hear more, to listen more to really see what is going on. And then I should go out and do whatever I need to do."
Sandra Iheanachor, CAFOD, United Kingdom
You can read more experiences from participants here.
The camp ended with a pilgrimage walk to Fatima with over 200 local people, amplifying the sense of community that began at the camp. All were walking to see Pope Francis celebrate the 100th anniversary of the Marian visions at the site.
It was a fitting way to end this ecological conversion journey by being in communion with thousands of others at a mass given by Pope Francis. It was the end of one small journey but the beginning of a larger one to create a global community that cares for the one another and the planet.
"We must regain the conviction that we need one another, that we have a shared responsibility for others and the world, and that being good and decent are worth it." (LS 229)