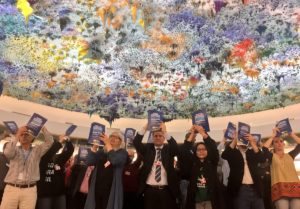 Early this month, January 2019, thousands of employees from Bangladesh factories making clothing apparels for global retail giants such as H&M, Walmart and many others went on strikes over low wages. The protest was marred with violence and repression by the police leading to reports of loss of lives and several others injured. Bangladesh's USD$30 billion clothing industry is the world's second largest apparel manufacturer, just behind China. The sector employs approximately 3.5 million workers and of these, 85 percent are women.
These protests come merely five years after the tragic Rana Plaza incident where the eight story building caved in ending lives of over 1,100 workers and injuring thousands. It was due to this horrific incident that the world's attention was drawn to the inhumane conditions including low wages for sweatshop workers who are often young women and girls between the aged of 15 – 25 years.
Patriarchy intersects with the current dominant oppressive economic system to leverage and exploit women's low status in society for profit, exacerbating existing structural inequalities. These inequalities are enabled and reinforced by the activities of transnational corporations and other business enterprises. Women are affected by corporate abuses in gender-specific ways. But corporations don't only violate and abuse human rights – they also increase their undue influence over policy decisions affecting our lives and communities.
From October 15 – 19, 2018, the Fourth Session to discuss the contents of a legally binding UN instrument to ensure the protection of human rights from the activities of transnational corporations and other business enterprises was held in Geneva. This was a watershed moment for the over 90 states and 400 observers, including representatives from social movements and civil society organisations, who took part in the week-long discussions.
As so clearly and forcefully recognized by the Deputy High Commissioner, Kate Gilmore, in her opening remarks at the meeting, "It is crucial that the treaty be rooted in the lived experiences of those who suffer most as a result of business activities." It is essential, therefore, that the treaty takes into account the different, often disproportionate impacts of transnational corporations activities on women's rights, and the additional historical and structural barriers to women's access to justice and when seeking gender-responsive remedies.
The Feminists for a Binding Treaty is a collective of over 15 organisations working together to integrate a gender justice perspective into the legally binding instrument. Integrating a gender justice approach into the treaty means analyzing how businesses may have different, disproportionate, or unanticipated impacts on individuals, as a result of their different gender-based social and cultural roles and existing inequalities and discrimination in law and practice. This approach is essential to the very purpose of the treaty, which is to put the concerns of rights holders at the center and to effectively ensure the prevention, protection and remediation of business-related harms for all. Ultimately, women's voices, rights, experiences, and visions must be visible and prioritized throughout the process and adopted treaty.
The Feminists for a Binding Treaty have focused on three key suggestions: (i) mandatory gender impact assessments of business activities, (ii) gender-sensitive justice and remedy mechanisms, and (iii) ensuring respect, protection and an enabling environment for women human rights defenders.
The inclusion of references to women in the zero draft of the Treaty is welcome and is a step in the right direction. Also encouraging was the fact that many states spoke in favor of including a gender perspective. But unfortunately, the treaty falls short of expectations and still treats gender as an afterthought and fails to address our key concerns.
We encourage States and stakeholders to continue to engage in substantive discussions that will bring us closer to the realisation of the binding instrument. The future legally binding instrument remains potentially a critical tool to advance gender and economic justice.
Together with allies, Feminists for a Binding Treaty remains strongly committed to advocate for a strong treaty that incorporates the perspectives, lived realities and visions of all women.
For a comprehensive feminist analysis and detailed recommendations, please refer to the joint brief "Women's Rights Beyond The Business Case: Ensuring Corporate Accountability" by Feminists for Binding Treaty Coalition, and follow #Feminists4BindingTreaty online.
About the authors:
Felogene Anumo is Building Feminist Economies Coordinator at the Association of Women's Rights in Development (AWID). AWID is a member of the Feminists for Binding Treaty Coalition. Prior to joining AWID, she worked for the African Women's Development and Communication Network (FEMNET).
Twitter: @felogene
Layla Hughes is a lawyer who has worked on behalf of indigenous and conservation groups for the past 20 years on issues related to feminism, human rights, environmental protection, and corporate accountability.