Recommendations based on experience with the Green Climate Fund 
CIDSE Briefing paper, June 2023 
Author: Thomas Hirsch, Climate & Development Advice
Editors: Martin Krenn (KOO), Ben Wilson (SCIAF) & Kim Claes (CIDSE)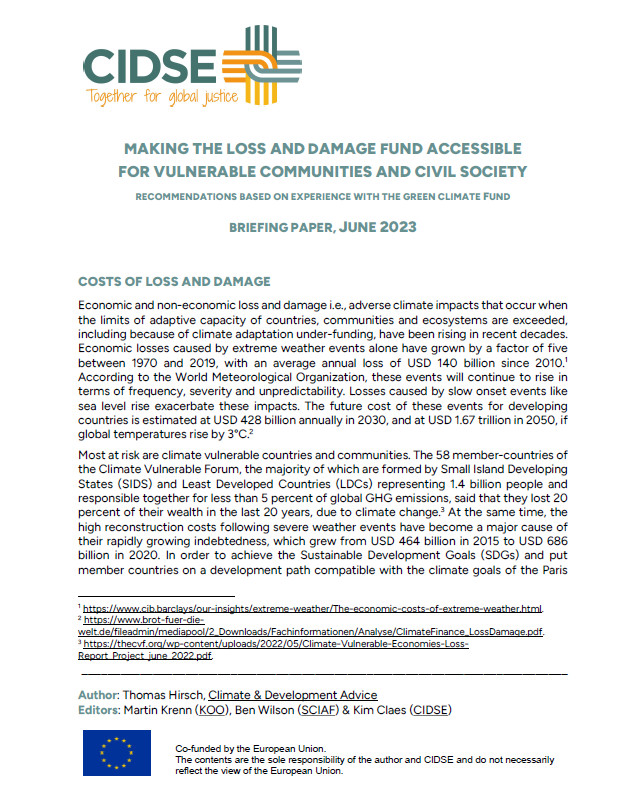 Economic and non-economic loss and damage have been rising in recent decades and will continue to do so in terms of frequency, severity and unpredictability, be they caused by extreme weather events or slow onset events like sea level rise. Most at risk are climate vulnerable countries and communities. The fact that poor and vulnerable populations are disproportionately affected by climate change, and that they will be even more so in future, is a serious violation of fundamental principles of climate justice and equity.

Without international support, these countries will neither be able to close the protection gap against further massive climate loss and damage nor will they be able to make the transition to carbon-free sustainable development – two sides of the same coin.


This briefing paper:
Underlines the need to address Loss and Damage as a State obligation under international human rights law.
Argues that direct community access to Loss and Damage funding is a key requirement to reach the most vulnerable
Share lessons to be learned from the experience with the Green Climate Fund based on CIDSE's work to improve civil society's access to the Green Climate Fund.
Offers recommendations on how to tailor the operation of the Loss and Damage Fund to meet the needs of vulnerable communities as well as on how to align the governance and the structure of the Fund to reach people affected by loss and damage or civil society organisations that support them.
---

Additional information
The briefing was officially launched on 14 June 2023 during a side event at the Bonn climate change conference (SB58) co-organised with CAN, KOO, ActionAid, CIDSE, Christian Aid, Maryknoll Office for Global Concerns, SCIAF and Act-Church of Sweden.

Contact person: Kim Claes, Energy and Extractivism Officer (claes(at)cidse.org), CIDSE

Co-funded by the European Union. The contents are the sole responsibility of the author and CIDSE and do not necessarily reflect the view of the European Union.

Cover photo: COP27 demonstration in Sharm El Sheikh, 2022. Credit: CIDSE.