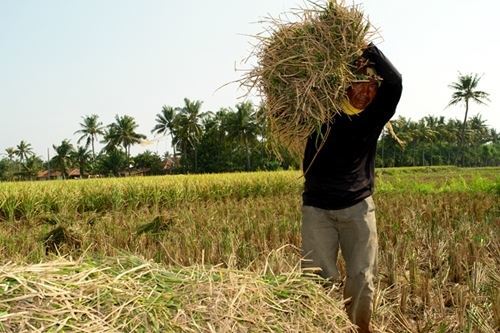 As we find ourselves nearing the mid-way point of this year's Lenten period, are you satisfied that you're doing your bit to contribute to a food-secure future for all? Why not bolster your commitments by signing up to a new online pledge launched by the Ecumenical Advocacy Alliance (EAA) to reduce food consumption and take concrete actions against food waste throughout Lent and beyond?
This year, with several of CIDSE's Member Organisations' Lenten campaigns focusing on the underlying causes of hunger, CIDSE's sister organisation EAA shines the spotlight on one particularly pertinent dimension of the food security and hunger debate: that of consumption patterns, food waste and post-harvest losses, all of which are not only unsustainable from an agricultural perspective but also act as major drivers of climate change. By signing up to EAA's online 2013 Fast for Life pledge, you and your family can signal – and act on! – your commitment to do all you can to minimise food waste, not only in Lent but from here on out.
As raised in CIDSE's 2012 paper, Agriculture: From Problem to Solution, we currently find ourselves in a tragically paradoxical world in which nearly one billion people experience hunger, whilst another one billion are considered obese and overweight. As highlighted by our friends at EAA, we, as Catholics, are called to respond to the fact that 30% to 50% of the estimated four billion metric tons of food produced each year (approximately 1.2 to 2.0 billion tonnes) is wasted due to inadequate infrastructure, wasteful practices by retailers and consumers, and the lack of proper policies and regulations. We must not be passive witnesses to the fact that 15 million children worldwide are dying of hunger per year, especially when we consider the amount of food that is going to waste.
In a world challenged by climate change, a rising population, and a global economic crisis, we need to be smarter, more efficient, and fairer about the way we produce, distribute and consume our food. By taking this small but decisive and important step of signing the individual EAA pledge, you can make a positive change to the sorely imbalanced and destructive food system. Act today, and spread the message far and wide amongst family and friends!
CIDSE has been a member of the Ecumenical Advocacy Alliance's food group for more than three years. Recent collaborations include the aforementioned CIDSE 2012 Food and Climate paper, to which EAA contributed their expertise on food consumption and waste, and also the 39th session of the World Committee on Food Security in October 2012, where both CIDSE and EAA engaged in the Civil Society Mechanism Side event on Climate change, agro-ecology and resilient food systems. In 2011, EAA also disseminated CIDSE's work on food price volatility.
More information on the issue of food waste and consumption, including a wide a selection of recent research reports, can be found on the EAA website.