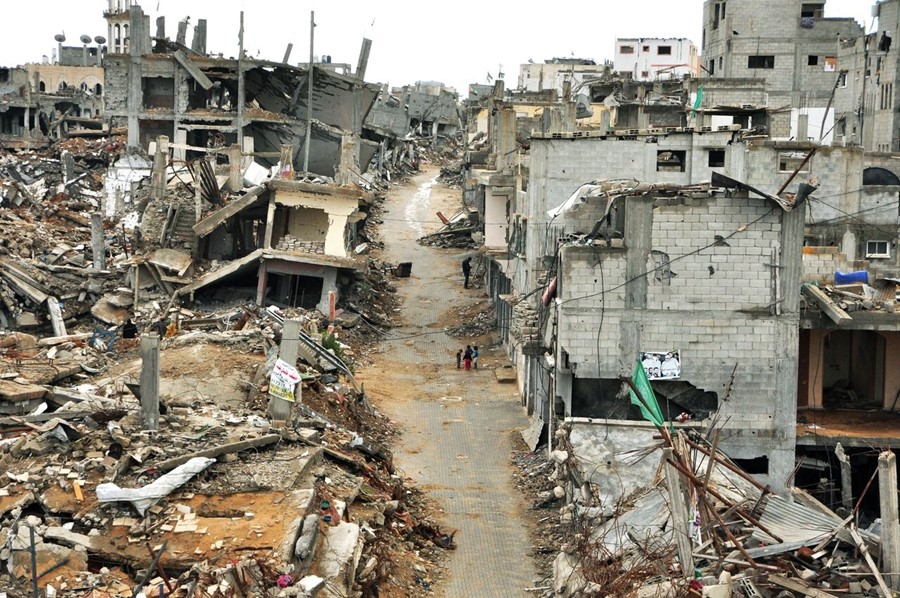 One year after the start of 'Operation Protective Edge', which led to 51 days of devastating hostilities, the people of Gaza are struggling to rebuild their homes and their lives
One year ago, the Israeli army launched 'Operation Protective Edge' in the Gaza Strip, a part of the occupied Palestinian territory (OPT) which it holds under closure, amid rocket fire from Palestinian armed groups. The 51 days of hostilities were the third major escalation in six years, and the most devastating since 1967. According to the UN Office for Coordination of Humanitarian Affairs (UN OCHA), 1462 Palestinian civilians and 6 civilians in Israel were killed. At the height of the operation, almost half a million people were internally displaced, and over 18 000 homes in Gaza were totally or partially destroyed. An independent commission of inquiry appointed by the UN found indications that both the Israeli army and Palestinian armed groups had violated international humanitarian law.
One year later, the people of Gaza are struggling to rebuild their homes and their lives. About 100 000 people are still displaced. Access of goods and people to and from the coastal territory remains exceptional, and reconstruction has barely begun.
A number of CIDSE members support local partner organizations in Gaza who are doing important relief, recovery and longer-term development work in a range of sectors – all while facing these difficult circumstances themselves. Several partners in Israel are also working to document the situation and advocate for protection of all civilians. At the links below, you can read further about our members' and their partners' activities:
On the anniversary of the start of Operation Protective Edge, Broederlijk Delen answers eight important questions about Gaza, as well as highlighting that children are the main victims of the war (links in Dutch). According to Ivan Karakashian of partner organization Defence for Children International – Palestine, there was "no safe place for children" during last summer's military operation. "Children were killed in their houses and schools. Even those that weren't physically wounded are still often dealing with serious psychological effects".
In this video, Majeda Al-Saqqa – director of CCFD-Terre Solidaire's partner organization Culture and Free Thought Association (CFTA) in Gaza – describes how CFTA's psycho-social support to children has had to "go back to level zero". She also explains that the planned renovation of CFTA's children's centre, supported by CCFD, cannot take place because the cement needed cannot get through the closure. While CFTA continues its work to build young people's capacity, Majeda highlights that "to talk about citizenship, while they are in tents … in an area where there is little access to water, where there is no electricity for almost 12 – 18 hours every day… is something very challenging". See also: Letter to a one year-old child in Gaza by CCFD-Terre Solidaire, Handicap International, Médecins du Monde and Sécours Islamique France, published in "La Croix" (in French).
This article in The Independent on Sunday describes the work being done by CAFOD partners to ensure that people in Gaza can access clean water and medical care. Seventeen year-old Doha, who received a water filter from Islamic Relief, explains that "[t]here was a time before the filter that we didn't have clean water for five days". Thirty-six year-old Foz Boyouk, whose disabled parents now receive treatment from a Caritas Jerusalem mobile clinic, had to risk her life last year during the fighting to get her father to his dialysis treatments: "There was no help from ambulances – it was too dangerous for them. If you were injured, you died." Mary Lucas, CAFOD's Middle East representative, says: "Last year, we heard many people in power say that a return to the situation before the war was not an option and that the reconstruction of Gaza had to be part of a meaningful political process. Yet little has changed."
According to Sami El-Yousef of the Pontifical Mission in Jerusalem, a partner organization of MISEREOR, "victory was declared by both Israel and Hamas", but the reality today shows that there were no winners. "The people of Gaza paid and continue to pay a very heavy price as the situation on the ground remains unchanged". One of the main reasons why the people of Gaza have survived three devastating wars in a span of six years was their deep sense of faith and hope. El-Yousef concludes that we have to do whatever we can to support the people of Gaza and to be in solidarity with them, as they deserve a better life.
Staff members of Trocaire visited the Gaza Strip earlier this year to witness the devastation first-hand and meet with affected families. Some of their stories are in this video – Nabil, a farmer who saw his wife Shirin and four of his children killed in a drone attack; Rawda, who lost two of her sons in an airstrike on a beach café while watching a World Cup football match; and Bilal, her cousin, who was seriously injured in the same attack, and is now unable to work because of disability. Trocaire's local partner, the Palestinian Centre for Human Rights, is providing legal representation to help these families seek justice. Garry Walsh, Trocaire's Programme Manager for the OPT and Israel, emphasizes the need for the international community to support justice and accountability: "If no-one is held responsible, we are all but guaranteed to see another round of devastating violence in the future".
Contact:
Deborah Casalin
Policy officer/ International Humanitarian Law Advisor
(Israel-Palestine working group)
deborah.casalin(at)broederlijkdelen.be