The conference "People and Planet First: the Imperative to Change Course", organized by CIDSE and the Pontifical Council for Justice and Peace in the aftermath of Pope Francis' Encyclical Laudato Si, ended Friday 3 July in Rome.
The event brought together 200 church, civil society, and political representatives from all continents and from 45 different countries, involving high level speakers such as Cardinal Pietro Parolin (Secretary of State of the Holy See), Naomi Klein, Mary Robinson (UN Special Envoy for Climate Change), and Enele Sopoaga (Prime Minister of Tuvalu) amongst others. "This two- day conference has been a unique space for discussions, during which worlds that usually operate independently met, exchanged reflections and took advantage of such an exceptional space for dialogue", said Bernd Nilles, CIDSE secretary General.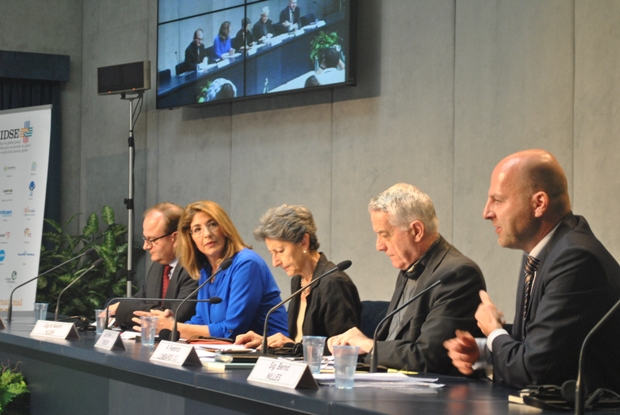 Picture: press conference, 1 July 2015, Holy See press room. Speakers: Prof. Ottmar Edehofer, Naomi Klein, Flaminia Giovanelli, Bernd Nilles. Moderator: Father Federico Lombardi
At a press conference preceding the conference Naomi Klein and Bernd Nilles highlighted the importance of building unusual alliances to address climate Change which has become one of the greatest challenges to human kind. Naomi Klein said the climate movement doesn't have the strength to tackle fossil lobby alone and that we need new alliances. In light of the encyclical letter Laudato si, the CIDSE conference "People and Planet first: the Imperative to Change Course" called for urgent climate action and highlighted that overcoming climate change also requires a greater social, environmental and economic transition with new rules for the economy. This includes ending the fossil fuel era by 2050 and changing lifestyles in order to respect sustainability and the need to limit overall material consumption today in line with planetary boundaries.
Picture: Heinz Hoedl and Cardinal Peter Turkson
Cardinal Turkson said: "Facing our leadership is the urgent need to develop policies so that, in the next few years, the emission of carbon dioxide and other highly polluting gases can be drastically reduced. The use of highly polluting fossil fuels – especially coal, but also oil and, to a lesser degree, gas – needs to be progressively replaced without delay with intelligent and widespread access to and use of renewable sources of energy, facilitating this energy transition… Yet the single biggest obstacle to the 'imperative to change course' is not economic, scientific or even technological, but rather within our minds and hearts. The same mindset which stands in the way of making radical decisions to reverse the trend of global warming also stands in the way of achieving the goal of eliminating poverty."
The conference was opened by CIDSE president Heinz Hoedl who highlighted that: "The ecological crisis reveals the systemic failures of a political and economic order driven by vested interests and based on the primacy of the market and profit, which has failed to put the human being and the common good at the heart of the economy. We need to put an end to the current growth and development paradigm of unequal economic, social and political systems, unequal distribution and access to resources like water and land, leading to human rights violations, environmental and social degradation and conflicts."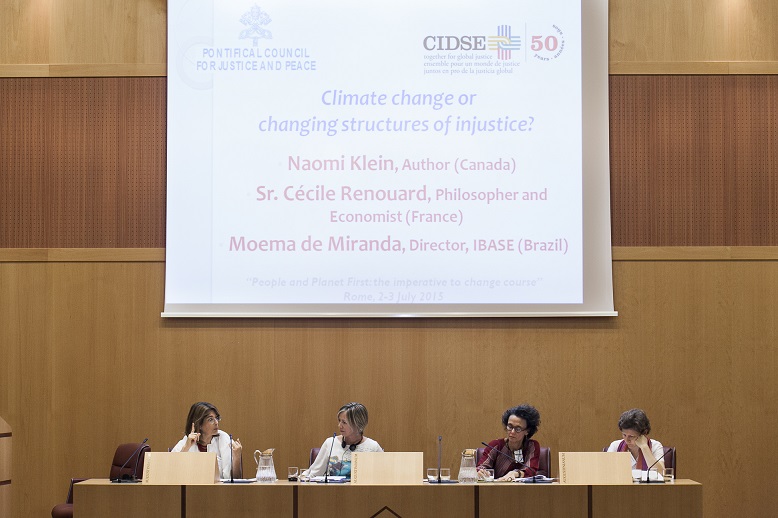 Picture: Panel "climate Change or changing structures of injustice? Speakers: Naomi Klein, Moema de Miranda, Sr. Cecile de Renouard. Moderator: Lorna Gold
Naomi Klein, who took part for the first time in a conference at the Vatican showed great support for the guidance the encyclical gives stating: "Read the actual encyclical – not the summaries, the whole thing. Read it and let it into your hearts." According to Klein, a new climate movement is emerging: "A movement based on the knowledge that if we don't want runaway climate change, then we need system change." Sr. Renouard highlighted the importance to reduce inequalities by "promoting a concept of a relational common good, as distinguished from relational common problems that create disasters for people and ecosystems." This can also help us also to "analyze global supply and production chains, to enhance the value of direct and indirect relationships e.g. between the final consumer and the small producer, to support local initiatives as well as international solidarity." "We are talking here about a deep transformation. Instead of increasing the size of the collective cake and looking at how shares are distributed, we must first look at how it is made to care for that the cake's ingredients do not poison us."
Cardinal Parolin recalled the importance of the encyclical Laudato Si' in 2015, a year when three important United Nations conferences will take place: the "Third International Conference on Financing for Development" in July, the "United Nations Summit to Adopt the Post-2015 Development Agenda" in September and the "Twenty-First Session of the Conference of the Parties to the United Nations framework Convention on Climate Change" ("COP21") at the end of the year in Paris. He expects "the Encyclical will have a certain impact on these events, but its breadth and depth go well beyond its context in time…More than once I have had occasion to emphasize how the technological and operative base for promoting such progress is already available or within our reach. We must seize this great opportunity, given the real human capacity to initiate and forge ahead on a genuinely and properly virtuous course, one that irrigates the soil of economic and technological innovation, cultivating three interrelated objectives: (1) to help human dignity flourish; (2) to help eradicate poverty; and (3) to help counter environmental decay."
Picture: Cardinal Parolin after giving his speech with Bernd Nilles and Bishops Portella, Stenger and Lalanne

The Prime Minister of Tuvalu, coming from a climate vulnerable Island State called on all stakeholders to respect the urgency to act. "The elephant is actually a whale in the lagoon – and the small fishes need to be very careful!" We need the courage of all "to make sure that COP21 will be successful". Moreover Tuvalu – however small – would like to be an example by achieving 100% renewable energy by 2020.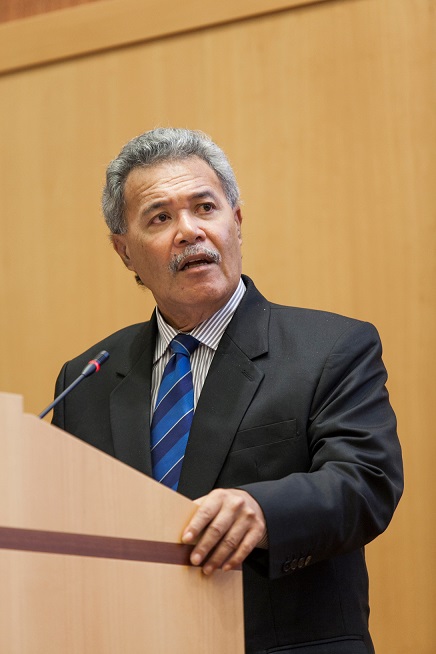 Picture: Enele Sopoaga

Mary Robinson, former President of Ireland and currently the Special Envoy of the United Nations for Climate Change recalled that: "Climate action is a prerequisite for long-term prosperity" and that "We will not solve the climate crisis or embark on a new pathway to sustainable development if we don't fully engage the 50% of the world's population that are women". Mary Robinson also recalled that women are disproportionately affected by climate change and they should be considered part of the solution in the fight against climate change. Robinson further highlighted that climate change is an injustice and recalled Popes Francis' words who said that "injustice is not invincible".
Pa Ousman Jarju, Gambian Minister of the environment echoed the Prime Minister of Tuvalu: "Borrowing from Pope Francis's encyclical, as the world's poorest are facing the worst impacts of climate change, it is indeed time 'to consider an ethics of international relations'."
Picture: Mary Robinson
He explained that in the international climate change negotiations, the Least Developed Countries (LDCs) work together as a group to represent the nearly 1 billion people for whom combating climate change is a matter of survival. They remain special cases considering their unique and particular vulnerability to the adverse impacts of climate change. Already with global warming of less than a degree we are experiencing more frequent and intense storms, droughts, extreme weather events, accelerating sea-level rise and other life-threatening impacts. The Paris agreement, Pa Ousman Jarju said, should contain a continued commitment by developed country Parties to take the lead in scaling-up the provision of adequate, predictable, new and additional financial resources, balanced allocation between adaptation and mitigation, and opportunities. According to the Gambian Minister, breakthrough in Paris needs to send a clear signal that the global community acknowledges the need, and is prepared to accelerate the paradigm shift in how it responds to the climate change challenge and seizes the opportunities that addressing the challenge presents. Mohamed ElFarnawany Director of Strategic Management and Executive Direction at IRENA made a point about the need to shift to renewable energy by saying: "Our todays energy system is unsustainable and irresponsible. We need to move to renewable energy, we have a moral case, backed by a business case, now we need to diversify, decentralize and democratize the energy system and stop fossil fuel subsidies".
Cardinal Turkson closed the conference highlighting the need to continue to work together, to take on the ideas generated at this conference, including giving the role of women a greater emphasis. Further, he announced upcoming Holy See initiatives to work with the encyclical including looking at the Jubilee Year of Mercy 2016. Bernard Pinaud (CCFD/CIDSE), added a call to mobilize worldwide for Paris COP21, where governments need to deliver an ambitious agreement and where outside the negotiations civil society and people will come together to embark on a future that respects our common home.
Picture: Evening Holy Mass in the spirit of Laudato Si', with Cardinal turkson at the Parco del Pineto, 2 July 2015
Click here to see more pictures from the conference.
Click here to see more pictures from the press conference.
Share this content on social media