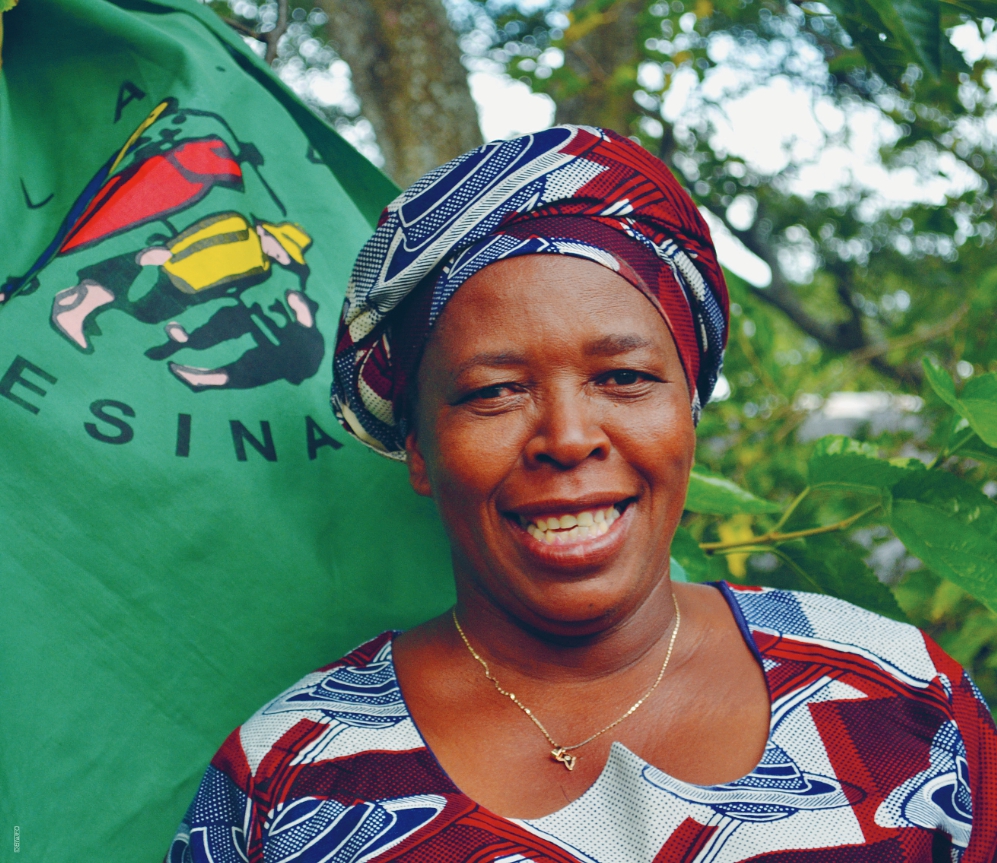 The labor and courage of women is central to their communities and rural economies, and by extension, to the global economy. However, they are underrepresented at all decision-making levels, especially when it comes to participation and co-determination in managing resources. In tribute to the exemplary commitment of women to themselves, their families and their communities, the Swiss Ecumenical Campaign 2019 focused this year on women's rights.
This ecumenical campaign is unique in the world as it connects the three Christian Swiss churches through their development organisations Brot für alle, Partner sein, and CIDSE's Swiss member Fastenopfer. The 50th anniversary of the Ecumenical Campaign provided an opportunity to honour the commitments of these organisations to supporting women activists in the global South.
One of these women is Elizabeth Mpofu, the President of the Zimbabwe Smallholder Organic Farmers' Forum (ZIMSOFF) and international coordinator of La Via Campesina (LVC), who is advocating for the rights of rural women in Zimbabwe. The contribution by Elizabeth Mpofu and other women are captured in the brochure produced especially for this year's campaign "Gemeinsam verändern wir die Welt! 50 Frauen die bereits damit begonnen haben".1
Women maintain the social network and in many places bear the brunt of the burden in smallholder agriculture and the informal sector. "Women make the essential contributions to the rural economy," says Elizabeth, "cultivation of vegetables, animal husbandry, cooking, collecting firewood and water, going to the market, caring for family members and maintaining their homes. If possible, they also perform wage labor on top of that… Women are the backbone of the rural and national economy. That's why their work needs to be valued more."
"Many of these contributions are not considered as 'economic activities even though they are essential for the well-being of households and thus also for the overall economy of a country. Therefore, the needs of women must be recognized and considered."
Elizabeth has experienced first hand that the valuation of women's labor and the support of women's needs can give them a foot up. "As a girl, I was not allowed to go to school. So I became a small-scale farmer and saw how important this type of agriculture that produces the majority of food worldwide is for women. It provides a livelihood and can also be the way out of poverty, but only if the right framework conditions are created. Health, education and social services in rural areas need to be strengthened and women must be appreciated for their role as food producers."
In addition, she advocates for more women in leadership positions and is proud to say that there is a shift in the organisations she is involved in towards more women in leadership positions. "Women also need to be given more co-determination rights. This is what I fight for and every little success gives me the strength to keep going".
In the global South as in the global North, women are courageous actors who stand up for their rights and those of their community, fight for an economy that serves life, and are committed to making urgent changes. This struggle is tied to the exploitation of natural resources, which often leads to human rights violations, land grabbing or soil and water pollution. Many partner organisations of Fastenopfer and Brot für alle experience firsthand the catastrophic effects of extractive industries. But whether in South Africa, the Congo or Laos, women are demanding their rights, joining forces and becoming stronger.
1 The Campaign brochure is also available in French and Italian.