Testimonies of women living under occupation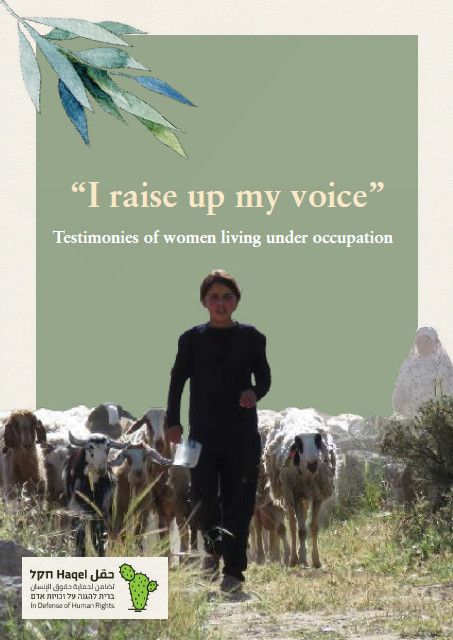 In the booklet, "I raise up my voice", 8 Palestinian women share their stories of life under occupation. The women currently all live in Area C in the West Bank. Their stories, captured by staff of the NGO "Haqel, in defense of human rights", focus on the challenges women and their families face under the extreme circumstances of the Israeli occupation. Haqel wants to make their stories visible as a catalyst for empowerment and provide a channel for women from different communities and geographical locations to have their voices heard, and to connect them in their common struggle.  

"The booklet provides the space for freedom of expression, facilitating the processes of social transformation, and building family and community resilience. These women are agents of change." 

In the occupied Palestinian territory, women have to deal with the day-to-day reality of the Israeli occupation that violently interferes with their ambitions, families, and households. Many of them face the constant threat of evictions, home demolitions and violence from the Israeli settlers in the surrounding settlements.  

In this booklet, Palestinian women share personal stories that shed a light on the everyday challenges and the impact of living under military rule on their personal lives. Haqel highlights that the impact of human rights violations on women is unique. It affects a wide range of aspects of their life as they are traditionally responsible for taking care of their children, running their households and providing for their families. They are the backbone providing the necessary support to families to surviving and resisting the extremely hostile situation in the occupied Palestinian territory. In their work and care they put Sumud – steadfastness and perseverance – into practice. This despite constant fear of violence, attacks and evictions.

Halima's testimony  
Halima Muhammad Yussef Abu Eram, 79 years old, is from the village of Khirbet Jinba, known as the Village of Caves, located in the area of Masafer Yatta in the South Hebron Hills. Last year, the Israeli Supreme Court approved the eviction of over 1400 Palestinian men, women and children from 12 villages in Masafer Yatta. Violence against Palestinians in the area increased even more since then. Jinba has been one of the sites of settler violence aimed at intimidating Palestinians out of their homes, burning lands, destroying homes and demolishing property, continued violence against villagers, evictions and extensive demolitions. Perpetrators enjoy total impunity and the Israeli authorities not only fail to stop settler attacks but rather enable them. Halima's family has been there for about four generations, ever since her grandfather bought land in the area. Halima raised four boys and three girls and currently lives with her eldest son, his wife, his seven girls and five boys. Her son supports all of them financially; he is a shepherd as well as an excellent farmer. His wife takes care of the children and manages the household. 
"I spent most of my life farming my land. I would go to the fields every day and work the lands myself. Women's work is different now. We use milk harvesters instead of traditional milking. We also use mixers to process the milk and produce dairy products. Our work now is more focused towards dairy production, baking and caring for the cattle.
Life under occupation has been marked by so much suffering. In an attempt to displace us, the occupation forces demolished our properties on multiple occasions. Military forces stole our furniture and all our belongings and threw them away. They would loot all of our food, without leaving any speck for us to eat or drink. When we finally got an injunction order to stop the demolitions, the situation slightly improved. In 1985, the occupation forces demolished a lot of buildings. They issued demolition orders and destroyed our huts. They also destroyed the fodder for our animals. They told us to leave, but we remained and even slept in the open. Every time they destroy, we build over and over again.
There were some very frightful experiences and the people of Jinba escaped to the mountains because the occupation forces wanted to tie us up and torture us. Most of the women and some of the men would leave the village and run to the mountains, leaving the occupation forces alone to destroy and steal our properties and everything we owned. I witnessed an extraordinary amount of extreme violence in my life here.
They made us suffer so much. When we lived in a tent, Israelis would always come to threaten us; they would come during the night and destroy our furniture. They would remove the covers from my sleeping children forcefully and disturb their rest. I told them to have mercy on them, but they did not care. Even our clothes, those Israeli soldiers would throw them to the ground and trample on them. But we, the women, would not allow them to touch us at all, we would run away to the mountains instead. Once we heard that they were coming to break in. We got dressed quickly, put on our headcovers and ran to the mountains. It is important to mention that whenever we received aid from the city of Yatta, the Israelis would not allow us to get the aid. The people of Yatta would send us blankets and food, but the occupation forces would set up blockades and checkpoints in order to prevent us from getting our basic supplies.
After they broke into our house and wreaked havoc, we would come back to find that they spilled all the juice on top of the food. They would throw away the yogurt that I worked so hard to make. Then we would begin the process of rearranging everything that was left, and attempt to fix what they destroyed, and clean all the mess that they created. This process lasted for almost a week and another two months of savings in order to replace what the occupation forces destroyed. We would also need to provide food for the cattle which they trashed. Not to mention that they stole our gas cylinders causing us maximum financial damage.
In Khirbet Jinba there is only one clinic, which operates once a week, on Tuesday. When my daughter in law had a miscarriage, she was close to death. We had to take her to Yatta and then to the hospital in Hebron. We drove her in a tractor to the ambulance, which was waiting on the main road. The journey took almost an hour because the shortcut had been blocked. Then, the ambulance drove her to the hospital, taking another hour. By then she had lost a huge amount of blood, and her condition only worsened. They needed to do multiple blood transfusions to save her life. Thankfully, she got better, and her condition improved.
It was a rough time back then; as we had to endure the stress and fear of losing her if she did not receive the proper care on time. Not to mention that since my son and his wife have seven children, everything fell on me when their mother fell ill. I had to feed the children and take care of them. I also had to manage all the cooking. Additionally, the milk had to be extracted and prepared, which was already my responsibility. The government, unfortunately, did not offer aid, nor did they assign a temporary caretaker to help.
Our legal struggle was about a section of a road that the Israelis tried to close. We suffered for eight years while trying to reopen it for our community's use. In 2001, whenever we tried to cross the road with our tractor, the Israelis would forbid us from doing so, and compel us to turn around. Thankfully, instead of a trip to Yatta requiring three hours, it would take us half the time now that we have access to the road. It is so much more convenient. We can go buy fodder for the animals easily, and we can come and go whenever we need to.
Demolitions are a regular occurrence in the village. Our summer huts were demolished more than three times.
Two of my children got infected with the coronavirus. I was terrified for them because I had relatives in Yatta who died from the virus. We had to stay isolated for 25 days. It was a period of absolute terror, and worry, but I have faith and trust in God. My children were very careful with my health and always warned me against leaving the house. I had to cancel partaking in numerous events, because I was very afraid. My family had to apologize and decline attending many ceremonies, which had a negative impact on us socially since we could not perform our proper duties towards the people who held these events. We also could not hold prayer together due to the closure of the mosque. My family and the community suffered socially from the Coronavirus."
Testimony of Halima as it appears in the booklet.
Halima's story is amplified by the stories of the other women in the booklet. And even their stories, are just a few of the many stories people, especially women, living under occupation have to tell. Too often these stories go unheard. We want to encourage you to check out the other stories and to share them widely within your networks. 

---
About Haqel 
"Haqel: In Defense of Human Rights" is a human rights NGO whose work has had significant and life-changing impact on hundreds of Palestinian landowners and tens of communities to retain their rights to their lands, homes and villages in the occupied territories. It represents hundreds of individual landowners and tens of villages in the South Hebron Hills, the Bethlehem region and the northern West Bank. The core of Haqel's strategic litigation work focuses on gaining land access to privately-owned Palestinian lands, protecting farmers from escalating settler attacks, demanding duty bearer accountability and protection of farmers, their families, their possessions and properties, tackling discriminatory planning policies in Area C and preventing the displacement of families and communities from their homes. Haqel runs a pilot programme empowering women to engage in legal proceedings. Haqel is a partner of CIDSE's Irish member organisation Trócaire.  

Cover image: village in Masafer Yatta. Credit CIDSE