CIDSE was in New York for the UN Climate Summit on September 23. We also joined the Interfaith Summit on Climate Change and the massive People's Climate March.
The People's Climate March was the largest protest demanding action on climate change in history, gathering around 400 000 people worldwide.
As a first reflection we offer the words of Mr. Joseph Cornelius Donnelly, Permanent Delegate to United Nations of Caritas Internationalis in New York:
"As planned for a year – thousands, even hundreds of thousands, from every direction, sector, organization, heritage, education, faith, ethnicity, lands… descended upon/arrived in New York City this morning… as countless others did at Climate Change Events around the world in big cities & small towns. In Central Park-Colombus Circle Manhattan today the heavy overcast might have dampened spirits. No such discouragement unfolded, rather there was a sunshining blazing trail of participants pouring in on interstate busses, local and regional trains/subways, cars, vans, bike and by foot. Others arrived earlier this week on economy flights from fields, farms, families afar.
There were not so many words today as there was PRESENCE, intended as deliberate action. By being out there in the streets together the strategy was to disturb the silent comforts of inaction. This massive movement on this particular day 48 hours before the UN-SGs Climate Change Summit could not be ignored, isolated, pushed aside as the signs, colors, bands, echoed boldly peacefully. Security officials and police agencies to manage crowd control seemed smilingly relaxed, engaged. It was like than so that unknowing passers-by easily caught the contagious solidarity invitation! Nurses, farmers, writers, school children, grandparents, activists, athletes, colleges, churches, more. ONE HUMAN FAMILY, as we express it in CARITAS communities, acting together for actions NOW. Members, friends, partners of our global Confederation and CIDSE, from very near & very far, were enthusiastically on hand while other colleagues were doing the same, BEING PRESENT, in other places.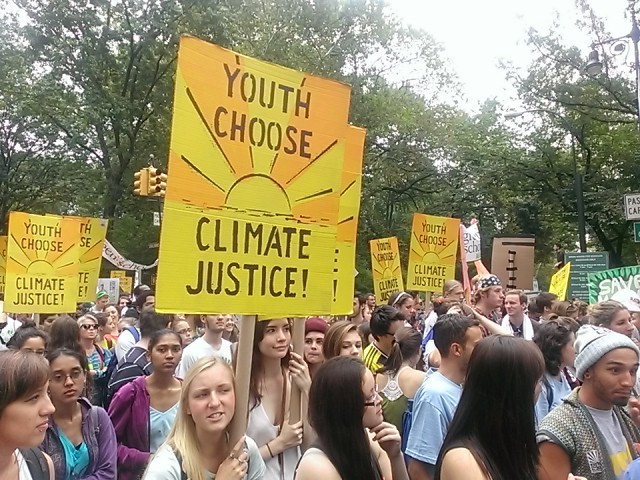 What will happen tomorrow is one very large, quite natural question tonight. Surely there will be reports, photos, quotes and more questions during the now 24 hours before the United Nations summit opens on Tuesday morning at UN headquarters on the other side of town as world leaders from at least 120 countries appear. Many "small island nations" will be on hand along with several of the "least developed countries" – all with learned portfolios from life, research and expectations – in the face of many larger, wealthy, powerful countries whose natural economic instincts and history runs roughshod over people living in poverty due to climate injustices, environmental degradation and more. Today's historic march and marches unequivocally state: Climate Change is very real! We are real. We will not be isolated no matter how inconvenient these truths are for local, national, regional authorities.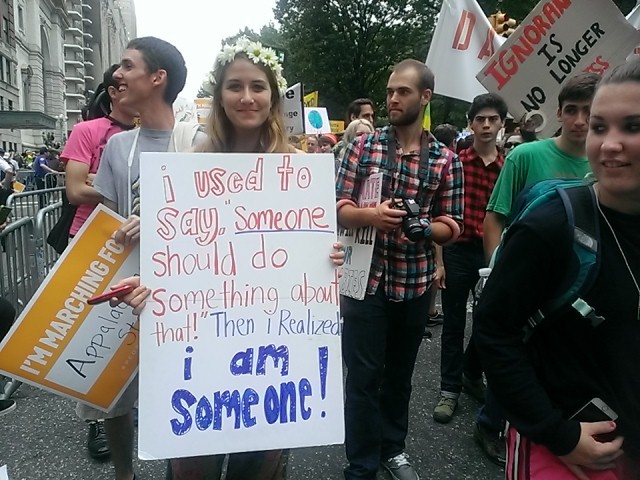 Happily, somewhat surprisingly, the long arduous advocacy efforts everywhere have taken off this month. Positive articles and reports are surfacing, multiplying people-based, fact-based evidences. So some hope is in the air tonight! Whether it will descend on the UN like an epiphany on Tuesday is unlikely, but when under the theme of "CATALYZING ACTION" diplomats and diverse experts assemble in the just completed, now very "green" renovated facilities on the East River, they will hear the voices of "We, the Peoples" as noted in the UN Charter for nearly 70 years. NOW is the time!"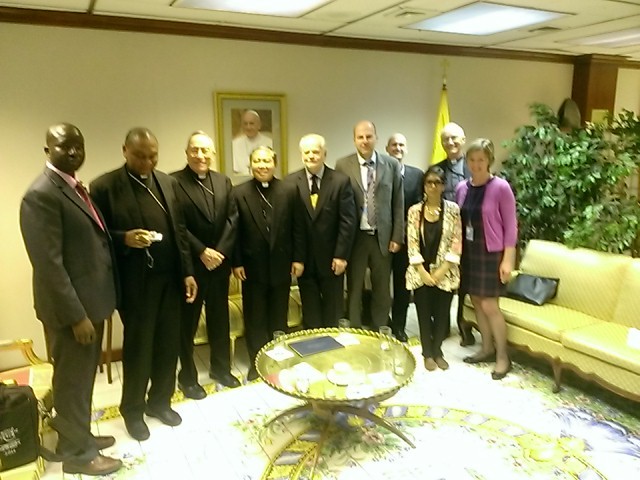 The CIDSE delegation also met with several national delegations to the UN Climate Summit, including with representatives of the Holy See, including with Archbishop Bernardito Cleopas Auza, the Holy See's Permanent Observer to the United Nations in New York.
The Interfaith Summit on Climate Change gathered 30 religious leaders reflecting a balance of gender, religions, geography, strong moral leadership and knowledge, as well as engagement on issues related to climate change. CIDSE was a co-sponsor of the event, while H. E. John Cardinal Onaiyekan of the 
Archdiocese of Abuja, Nigeria, and Father Michael Czerny of the 
Pontifical Council for Justice and Peace both were kind enough to join the Interfaith Summit as part of the CIDSE delegation. The Interfaith Summit issued a statement titled Climate, Faith and Hope: Faith traditions together for a common future.
At the time of the UN Climate Summit, an initiative that CIDSE is critical of, the Global Alliance for Climate-Smart Agriculture, was launched. You can read the CIDSE reaction here.
And finally, at the UN Climate Summit, Kathy Jetnil-Kijiner, a poet from the Marshall Islands, delivered the following poem, written to her 7 months old daughter: