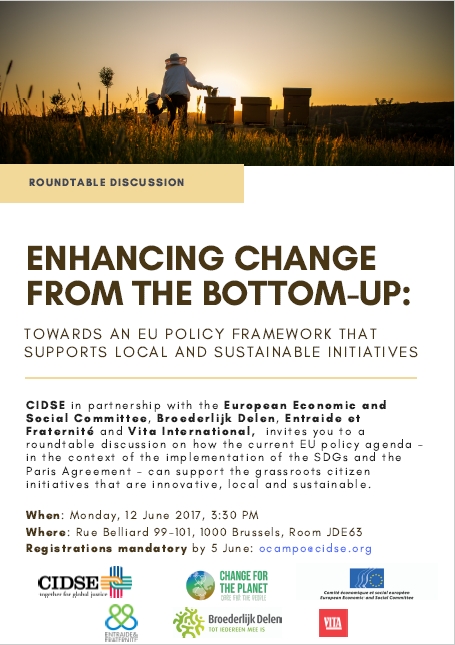 CIDSE in partnership with the European Economic and Social Committee, Broederlijk Delen, Entraide et Fraternité and Vita is organising a roundtable discussion on the power of citizens to move society towards fairer and more sustainable systems through their own innovative and local initiatives that take into account people's lives and the planet's boundaries.
This roundtable discussion will be followed by the awards ceremony for the international photo competition, "Inspire Change through your lens", which was organised as part of the Change for the Planet – Care for the People campaign.
The event will feature speakers with different perspectives on how the current EU policy agenda – in the context of the implementation of the SDGs and the Paris Agreement – can support the shift towards more sustainable models and enable citizen initiatives to flourish and multiply.
Speakers include:
– Eric Ponthieu, Head of Unit for Agriculture, Environment and Rural Development, European Economic and Social Committee.
– Klaus Rudischhauser, Deputy Director-General, Directorate General for International Cooperation and Development (DEVCO)
– Francois-Olivier Devaux, Réseau Transition Belgique Representative
– Emeline de Bouver, PhD in political sociology from UCL-Chaire Hoover and Head of Research at Centre Avec
Registration will start at 2.30pm. The conference will be in English and French.
Prior registration by email is mandatory. Please register before Monday, 5 June 2017 at (ocampo@cidse.org). For security reasons, we ask participants to please provide their full name and surname, ID number and country of residence.
The event will be followed by a vernissage at 6.00pm of a photo exhibition showcasing photographs from the competition at the Chapel for Europe, Rue van Maerlantstraat 22 -24, close to the EESC.
A complete program will be uploaded shortly.