In this article, Stefan Siebenhaar, Fastenaktion's Senior Advisor to the Management, describes the organisation's systemic change journey on the occasion of the release of their latest sustainability report.
Fastenaktion's sustainability journey
Fastenaktion has a long-term commitment to Sustainability in its programmes in the global South as well as in its work programmes in Switzerland. In the early 70's, e.g., Fastenaktion was a founding member of Switzerland's main Fairtrade organisations. In 1989, we realised our first Awareness-raising campaign on climate change. Building on our political and awareness raising work, we started to assume our responsibility in our immediate sphere of influence. Therefore, we reflected our own activities in the light of sustainability. The milestones of Fastenaktion's sustainability journey are:
Our sustainability reports following the GRI-Standards, published in 2008, 2010, 2011/12 and 2013/14.
Concept how we understand and approach Sustainability (2011). When we reviewed it this year, we were amazed that it is still very much up-to-date and needs hardly any updating.
Our guidelines on sustainable procurement date from 2017 and are under revision now.
Fastenaktion focuses on the common good
Fastenaktion attributes great importance to the issue of sustainability. In recent years, we have intensively debated the kind of change needed and added further principles, like a just society respecting the limits of our planet, systemic change and the need for an economy that contributes to the common good. Based on our concept and these principles, we took a new attempt in 2019 for future sustainability reports. Particularly the approach of the economy for the common good (www.ecogood.org) caught our attention. This is why we decided on the common good matrix as a framework to evaluate our work and used the common good balance sheet to analyse it in detail:
The common good matrix is a holistic approach. It aims to support organisations to become part of the change.
Human dignity, justice, environment and transparency are the criteria. These are used to reflect on the activities of the organisation.
With the help of a common good matrix, one measures the impact on the stakeholders and the environment.
With the common good matrix, we also look at the positive effects. We do not focus only on the social and ecological damage in order to reduce it. The impact on the common good is balanced across the entire activity.
The sustainability report as a learning process
We conducted this assessment in a peer group of NGOs. We were eager to exchange ideas with other Swiss organisations like Greenpeace. Our discussions about the work we do were very lively. How does Greenpeace manage to implement sociocracy within the structures of a foundation? Who can serve as a role model for civil society cooperation? We appreciated this learning beyond organisational boundaries and all benefited from the best practices of the others.
Within Fastenaktion, the working group discussed the balance sheet thoroughly with the staff and the management. Reasons for controversy were the business management concepts that were not appropriate for Fastenaktion as an NGO: Our cooperation with partner organisations cannot be analysed as a customer or supplier relationship. Our work is characterised by the effort to create a fair partnership, the closeness to the beneficiaries and the joint learning with partners.
After this reflection, we reworked the report substantially and decided to present the key findings in our own logic. With some delay, we published our sustainability report in February 2022.
What did we learn?
The results can be found in the report available in German and French. As an organisation, we have learned a lot, especially:
Cooperation is at the heart of Fastenaktion
We have reflected on our stakeholder model. In doing so, we find that cooperation with other civil society organisations is at the heart of Fastenaktion. That is why we have chosen the image of DNA for the representation of our stakeholder model. Fastenaktion connects manifold with organisations and groups in Switzerland and in our programme countries.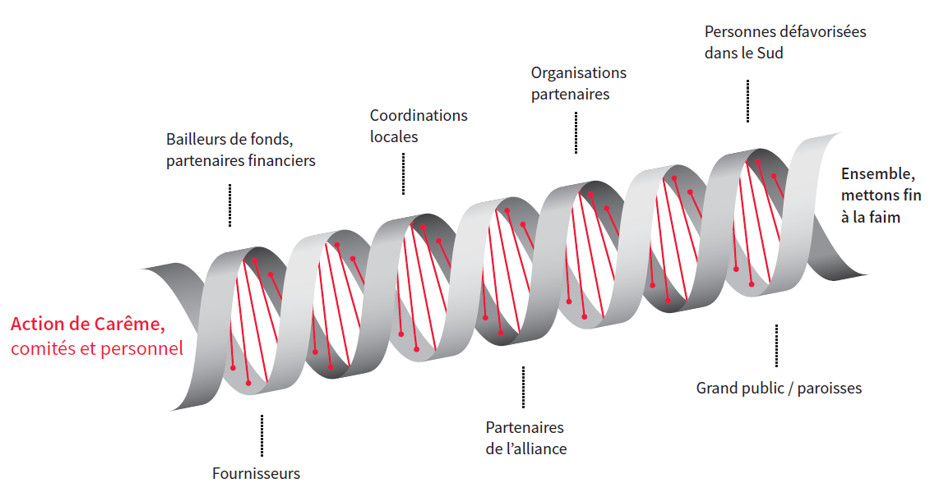 It will not work without systemic change
A world of justice is not possible without systemic change. This insight is not new, but the conclusion that we should first and foremost reflect on the extent to which Fastenaktion is able to leverage systemic effects. To be realistic, only beginnings and first signs of systemic effects are visible. In order to achieve systemic effects, reflection on root causes of injustice down to concrete advocacy cooperation within civil society as well as networking and movement building are indispensable.
What are realistic environmental goals?
Our overall environmental impact is positive: Not only thanks to efforts on sustainable consumption and office building but mainly through our advocacy for climate justice and our sustainable food and community energy production projects, including our Gold Standard climate project for improved cookstoves in Kenya.
Negative impacts come especially from international travel. During the Covid lockdowns we learned more about the possibilities for online exchange. This will reinforce our efforts in reducing travel to an operational minimum. But there are also limitations in international development cooperation so that travel continues to be indispensable in our ways of working. Benefits and harms need to be weighed carefully.
Next steps of improvement
The revised guidelines on sustainable procurement have just been approved. We will share these with our suppliers soon. This will help us to further develop the dialogue with our suppliers on sustainability.
We plan to create a set of sustainability indicators. Using this, we want to review annually our contribution to the common good. It is already clear that CO2 emissions will be an important basket indicator. It bundles our most important negative environmental impacts from travel, printing and building heating.
To make good progress on these challenges, we count on the exchange within CIDSE and other networks. Our strategy is clear and the path towards system change and true sustainability has made a leap forward. Now it's about the practical, concrete everyday issues but also the tough questions like travel, where the exchange of experiences with others helps us. Again, it shows: the goal and the path are important – and especially the companions.


---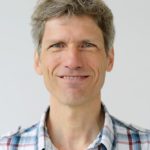 Since 2019, Stefan Siebenhaar contributes to the strategic and organisational development of Fastenaktion. He is a member of the Sustainability Working Group that produced the sustainability report. Before joining Fastenaktion, he worked as Manager of an integration project for people with mental difficulties and as communication and campaigning expert. Stefan studied theology with postgraduation in economy and environmental sciences.
Fastenaktion is CIDSE's Swiss member organisation.
Cover image: © Fastenaktion