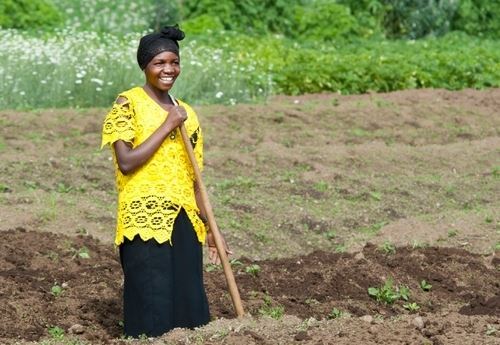 On Human Rights Day, CIDSE reminds world leaders why the Right to Food and climate justice go hand in hand on the pathway to sustainable development
With the recent UN COP18 Climate talks failing to take more ambitious climate action, the baton has now been passed back to the wider global community to try and salvage some faith in the possibility of a safer and more equitable world. 
The inextricable link between climate change and food security seen from a human rights perspective marks one opportunity to address this gap, serving as wake-up call to policy makers of the numerous and inter-twined systematic failures impacting both climate change and food production at an ever-increasing and alarming rate. 
Climate change-induced droughts, floods and other extreme weather events are severely impacting agricultural production, thus hiking up food prices. 
Yet there's another side to that story, says CIDSE's Policy and Advocacy Officer for Food, Agriculture and Sustainable Trade, Gisele Henriques:  the 'invisible hand' behind food markets, Gisele explains, is only exacerbating the problem of rising food prices, as are the issues of land and resource grabbing, access to land, and corporate control of value chains, to name but a few of demons threatening the secure and sustainable livelihoods of the world's poor.  
It is in the face of these converging challenges that the Right to Food plays a pivotal role. As summed up neatly by Gisele in a recent interview with the Ecumenical Advocacy Alliance ahead of Human Rights Day: "the right to food is a really useful tool because it is a legal framework – it is an obligation of states to protect, respect and fulfill the right to food for its citizens, and it requires accountability." 
The issue of accountability also goes hand in hand with policy coherence, particularly pertinent given the new policy spaces currently unfolding in the realms of food and climate. 
CIDSE urges policy makers to respect the role of the Committee on World Food Security (CFS) as the foremost inclusive international and intergovernmental platform dealing with food and nutrition security, and commends the CFS' recent efforts, during the CFS-39 in October 2012, to address, for the first time, the issue of the right to food and climate change. 
By the same token, CIDSE urges caution over the role of the United Nations Framework Convention on Climate Change (UNFCCC). 
"As the UNFCCC gets into agriculture territory, there are risks and opportunities. We can't leave this responsibility only to the UNFCCC," she explains. "Everything that the UNFCCC says should and must be aligned with the policies being laid out by the CFS to ensure coordination and coherence", explains Gisele. 
And bolstering unified policies are unified people, Gisele continues, stressing the importance of fruitful partnerships and collaborations for building a pathway to positive and long-lasting change:  "You can't do advocacy in isolation. We need a critical mass when talking to policymakers. We can help bring the voices of those affected by food insecurity to the policymakers." 
Read the full EEA Human Rights Days article with Christian voices