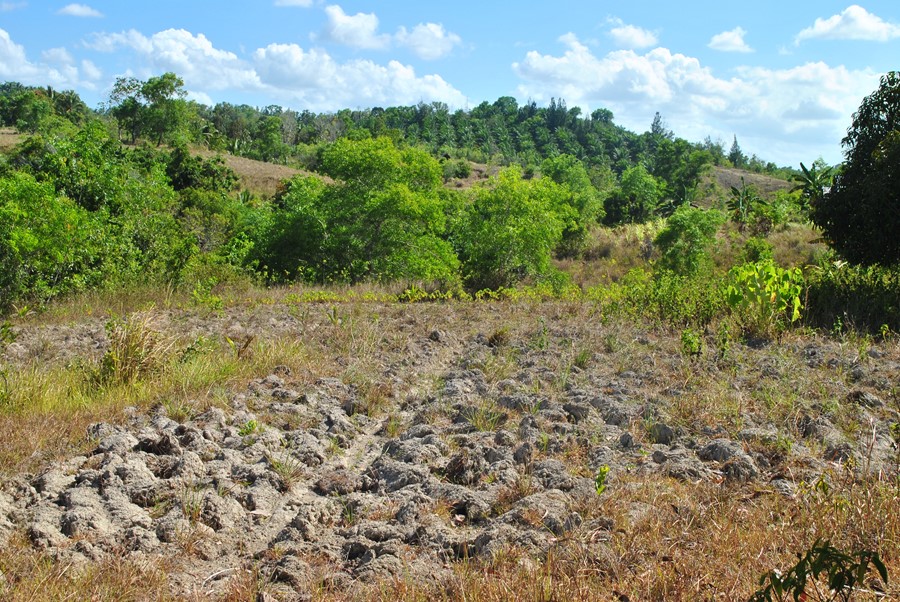 Following a field trip to the Philippines we reflect on the daily challenges of a country having to adapt to climate change to guarantee its food security and the livelihoods of its citizens.
We set foot in the Philippines on 7 April, during a very hot and dry summer, in the peak of El Niño. It has been so hot and dry this year that many of the regular crops are not surviving. Fish ponds are drying up. A state of calamity has been declared in several regions.
Just a couple of weeks before our arrival, 3 farmers had been killed by the police: they were protesting in Kidapawan City, in the region of Mindanao, to demand government's assistance in the wake of the drought. In another area of the country, Bohol, farmers told us that they are still waiting for the calamity funds that had been promised by the government, but they are not very hopeful to get the money anytime soon- it is delivered only every three years, we were told, which makes it irrelevant for alleviating the suffering during a calamity. In a completely dried up landscape only the cassava plants and some traditional rice varieties seemed to survive well: these crops are extremely adaptable and resilient. To cope with the situation and to support their families, many farmers try to find alternative jobs as carpenters or vendors, but that's not always a possibility- the situation is serious and food security is a daily challenge.
Cassava plants
But if extreme drought affects the archipelago during summer, the rainy season isn't free from the effects of climate change. The Philippines are also one of the most affected countries by natural disasters such as typhoons and flooding, which are now becoming more frequent and stronger as a result of climate change. In Tacloban in 2013 the super typhoon Yolanda, with the violence of its wind speed as high as 315kph destroyed houses, trees, crops, boats and much more; many of its effects are still visible today. When meeting a local community, we found out that the coconut trees, an important source of food and income, had been destroyed too, and since it takes 7 years from planting for the plants to bear fruits again, the communities cannot yet rely on them at the moment.
Building in Tacloban destroyed by Yolanda
After only a few days in the Philippines, we could see that people and communities, like the ones in the area of Tacloban or in Bohol, are constantly struggling to find ways to adapt to climate change and achieve food security. According to Masipag, a farmer-led network of people's organizations, diversification is one of the best ways to adapt: they encourage farmers to plant different crops so the chance of survival in case of a calamity is higher. Masipag is also involved in several other activities to build resilience such as fostering farmers' empowerment, trainings farmers in rice breeding, and maintaining a seed bank with all the traditional rice varieties, which is essential in case crops get lost in a calamity.
Their back-up farm in Santa Rosa, with an extension of 3 hectares, hosts around 2000 rice varieties. The main objective is to collect and preserve national rice farming practice in light of future natural disasters, but also for keeping the knowledge and passing it down to future generations. Masipag also sees the rice as a fundamental part of the culture, to be nurtured, as it also forms an integral part of the Filipino identity. The rice cultivated in the national farm is not for sale but the production is meticulously stored as well as seeds that often are sent for free to farmers when experiencing calamities.
Workers harvesting in the Santa Rosa farm
This climate adaptation project is one of the most advanced that can be found in the Philippines: based on the scientific research, the farmers apply their sharp observations to rice varieties manually bred to understand the adaptation-resistance spectrum of rice while maintaining their traditional knowledge, their seeds, and strengthening their capacity to cope with climate change. Thanks to this project farmers are getting empowered and more aware of what are the challenges and the solution that their land poses to them. They are building resilience.
In disaster-prone areas resilience is also built through preparedness for disasters. This is one of the key actions of the Leyte Centre for Development, operating in the Samar region affected by Yolanda. Thanks to their work many communities who had to face the disaster knew how to behave and were guided in taking the best decisions at an extremely difficult time.
Despite the unpredictable nature of climate- related phenomena, it is obvious in the Philippines that building resilience can make a huge difference for the communities: a difference as important as determining whether a community will be able to secure have its food security and livelihoods for the future.