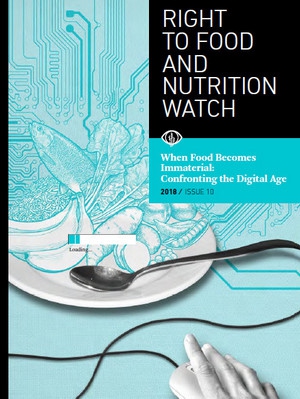 Confronting the Digital Age, Right to Food Nutrition Watch, 2018 ⁄ ISSUE 10. (Available in EN / ES/ FR/ PT)
Published on the occasion of World Food day, this year's Watch explores the impacts of dematerialization, digitalization and financialization on our food systems. It discusses how these processes are altering the conception of the food market, and how food consumption habits within urban centers and beyond are being affected. It explores how targets of political action are shifting in the pursuit of food sovereignty, and interrogates how the fulfillment of the human right to adequate food and nutrition will be addressed.
Contact: M. Alejandra Morena, FIAN International – morena(at)fian.org
CIDSE is a member of the Global Network for the Right to Food and Nutrition.
EN-When Food Becomes Immaterial Confronting the Digital Age
ES-Cuando la alimentación se hace inmaterial: Afrontar la era digital
FR-Dématérialisation de l'alimentation : aborder de front les défis de l'ère numérique
PT-Quando os alimentos se tornam imateriais Confrontar a era digital
EN-Infographic